Posted By RichC on July 30, 2015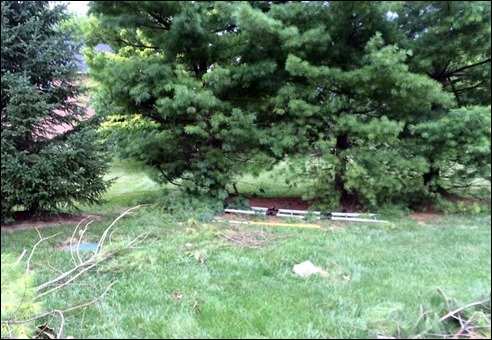 The above is a pretty innocuous photo: pine trees, a tree trimming pole and a ladder on the ground. It was the beginning to a difficult week as my wife Brenda started to trim a couple larger white pines (as she often does with magnolias and other smaller trees and bushes around our home). She enjoys yard work on her days off and particularly likes to get out early in the morning before it gets too hot … Tuesday was no exception for her.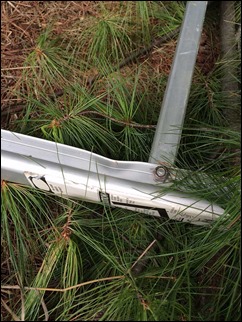 I was fortunately still at home after changing my work/travel schedule due to my father being taken to the hospital in the morning due to shortness of breath (that's another story). After getting the details and texting my brother, I went outside to update Brenda. There she was laying on the ground under the trees. She had placed the ladder up one of the pines and was proceeding to lop off a higher branch … the ladder slide and down she fell. My chest hurts even repeating this story.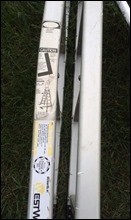 I ran over listening to her moaning in pain and unable to move more than her arm or her head … although never losing consciousness. She could semi-talk with me as I looked and moved her gentle around even wondering if I should move her? Eventually she convinced me to help (I had to cradle carry her) into the house and laid her painfully down on the bed thinking at the moment that I was going to need to get her to at least an urgent care. While icing her and I wondered how I was going to even get her in the car (she was in terrible pain whenever she moved), so I (we) decided it was time to call the rescue squad (a first for everything … and hopefully last!)