Posted By RichC on April 17, 2014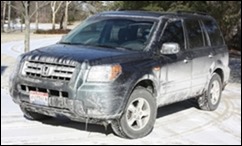 I've been plagued off and on over the past few years with a check engine light that the computers say indicates cylinder misfiring. It seems to come and go, to the point I begin to ignore it until someone points it out again.
A few years ago, I suspected that I might have had a batch of bad fuel since it seemed to go off after a second or third tank. Then a couple years ago I had my buddy Tim at Mr. Godwrench replace the plugs and wires (not like the old days … or a diesel – grin!) thinking having so many miles on the original could be part of the problem. BUT … it appeared and disappeared off and on again.
Then it hit me after watching Motorweek's Pat Goss discussing cleaning out the throttle body, injections components and build-up on pistons and cylinders, that it might be the fuel.
Since Shell Oil  loyalist, my wife Brenda, was in the car on a recent 2200 mile drive, we ran almost entirely Shell's Nitrogen-enriched gasoline — PDF. Unlike my better half, I tend to shop for the cheapest regular unleaded that I can find … Brenda on the other hand will only burn Shell gasoline. Interestingly, the light came on after running another brand of fuel and now has been off since I've only filled with Shell. Maybe there is something to the quality of fuel being sold by different companies or the "cleaning and protective barrier" claims advertised by Shell? My situation has me once again rethinking my position on what I suspect is just a snake oil  additive business.
WHY SHOULD YOU USE SHELL NITROGEN ENRICHED GASOLINE? (more…)