Posted By RichC on May 27, 2015
Brenda and I finally watched the Clint Eastwood directed movie about Navy Seal Chris Kyle titled American Sniper this Memorial Day weekend.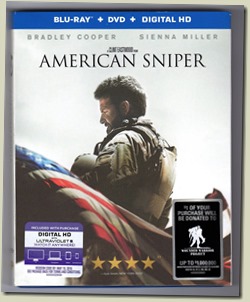 It was worth the price of a DVD purchase, although I'm not sure emotionally I'll want to see it again. The movie left me with gut wrenching sorrow and little solace that the heroic efforts of our military is making any gains in defeating our enemies. I deeply want to believe that stability the middle east is salvageable and that the sacrifice of so much blood and treasure is worth it, but the victories seem so paltry compared to where we find our world after over a decade of war.



Still, I'm thankful there are those willing to dedicate their lives to defend our country and freedom. The decisions are difficult for all in command and in the field. It is politically easy to be critical in hindsight, but the war against Radical Islam and those committed to killing in the name of a religion is not going away.
The leftwing media criticism of this movie was way overdone. It does little to celebrate war or glorify the job of a sniper as he protects his men. It does a lot in showing the sacrifices our military men and women (and families at home) make in answering the call to country. We do not honor or thank them enough.
"The only thing necessary for the triumph of evil is for good men to do nothing.."
–Edmund Burke